What Buyers, Sellers and Realtors Say About Ken & Jane
When choosing a Real Estate Professional, get to know their history!
Even though we are the recipients of numerous
Professional Achievement Awards
from both the
Real Estate Board of Greater Vancouver
, and local, national and international industry awards, the Awards that we value the most are the cards, letters, and emails we receive from Buyers, Sellers, and other REALTORS
®
expressing their gratitude and appreciation for our Professionalism and the manner in which we represented their best interests. To us, these are the Most Important Awards! Most Important not because they are based on "sales numbers" but, more importantly, because they are based on our Buyers' and Sellers' Happiness and Satisfaction with our Service.
We consider the satisfaction of our clients to be our greatest achievement and take pride in our high volume of repeat business and referrals. Call us today, we'd love to add you to this growing list!
WHAT PEOPLE ARE SAYING ...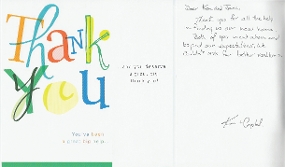 We Couldn't Ask for Better REALTORS®
Dear Ken and Jane,
Thank you for all the help in finding us our new home. Both of you went above and beyond our expectations. We couldn't ask for better REALTORS®.
Kim & Crystal
AWESOME!!!!
And you do it with such truth, honesty and integrity!
Tanya C.
Exceptional Service
Hi Ken,
I compliment you and Jane on your exceptional service.
Best Regards,
Dave
You Guys Are The Best!!
Thank you so much for letting us know. We appreciate your care and attention ... Thanks so much for your help. You guys are the best!!
B. & L. C.
They Are Truly The Best!
We got the keys to our house! Thanks to the best real estate team Ken-Jane Ambrose for taking care of us. They are truly the best!
A.C. & N.J.
We Couldn't Be Happier!!!
... We really appreciate everything you have done for us! We couldn't be happier!!!...
N.J. & A.C.
Hard Work & Dedication
Dear Ken and Jane,
Roger & myself would like to thank you so much for all your Hard Work and Dedication, for taking us on as your clients. Also for listing our home and getting it sold in such a short time. Then finding us the perfect rancher that we fell in love with from the first time we looked at it.
You're Awesome, No. 1 REALTORS(r) ever. Would recommend your Professional Service to anyone who is looking to Sell or Buy.
Hope you have a great "2014".
Thank you both once again.
R. & J.
P.S. Miss your phone calls, etc.
Professional Service & Care
Ken & Jane,
Thank you for the wonderful gift basket! We'd also like to thank you for the Professional Service & Care that you've Always provided in the sale & purchase of our homes. We appreciate it all - but value your friendship most of all.
W. & ML.
Integrity & Professionalism
Please join me in welcoming Ken & Jane Ambrose to Keller Williams ELITE Realty. They come to us with 24 years in the business with an impeccable record of Integrity and Professionalism. We are honoured to be in business with you.
Terri Spilsbury
Operating Principal
Keller Williams ELITE Realty
Life's a bowl of cherries
... because of nice people like you. Thanks!!
Ken & Jane,
Thank you for the wonderful gift basket! We'd also like to thank you for the professional service and care that you've always provided in the sale and purchase of our homes. We appreciate it all but value your friendship most of all.
W. & M.
Feeling Blessed!
Feeling blessed to have such wonderful friends who are talented and caring Realtors. Just got back from viewing options for Mum and Dad, and it was a lot better than I thought it would be.

Thanks so much, Ken & Jane Ambrose!
TL
Relocation Referral
It comes down to knowledge, abilities, and who will do the best job for me ...
A key trait for me is having whoever I work with understand that although I am not in the real estate business, I am intelligent and knowledgeable...
I appreciated how Ken helped my sister buy her house, which resulted in my recommending him to my neighbour and he did a great job selling her house.
It is why I trust his judgment and asked for your recommendations.
VB
Looking After The Details
Hi Ken and Jane,
We are so thankful to have such exceptional realtors looking after all the fine details of buying a home. (an amazingly nice home, I might add :))
... I'm holding down the fort for yet another house showing tomorrow! We will certainly be glad when this part is done.
Thanks again for all your hard work. Steve will see you at the home inspection.
Take care, have a fantastic evening,
Kelly-Ann G.
Looking Out For Our Family's Interests!
Hi Ken and Jane,
Thanks so much for checking on that house, and for your excellent explanations! There's so much to know when it comes to understanding the real estate market. That's why I'm glad we have you looking out for our family's interests.
Sincerely,
Carole
Couldn't & Wouldn't Have Done It Without You!
Ken & Jane,
Thanks to both of you for all your time & "Patience" with me thru this "gruelling" experience in my life. I couldn't & wouldn't have done it without the two of you & your great support. But wouldn't have missed it for the world! Ha Ha!! (Would you?)
Go have a nice dinner & relax! You deserve it!
With Deep Appreciation!
Lynn & Banditt
You're The Best!
Thank you Jane & Ken for the lovely cards. We have been in our house for 11 years now, and married for 31. Time flies when you're havin' fun! Thanks again for remembering us - you're the best!
New Listing
Congratulations on the new listing in Woodford Manor. I hope it came as a
referral from the great job you did with my suite! Cheers!
R. L.
Consummate Professional
Ken is a consummate professional. He and his partner, Jane, made the process of selling our property both painless and lucrative. Their integrity and market insight are unmatched in our experience and I highly recommend them to anybody looking for a full service broker with exceptional attention to detail, open communication, and a focus on results.
M.O.
Impressive!
THANK-YOU VERY MUCH. EXACTLY WHAT I NEEDED. AND SO QUICKLY......IMPRESSIVE! :)
J. B.
Congratulations on this Tremendous Accomplishment!
On behalf of RE/MAX, LLC, I would like to congratulate you for being presented with the 100% Club Award at the 2012 R4 Convention in Las Vegas!
Without a doubt, your contribution to RE/MAX's record-breaking success is recognized and admired throughout the RE/MAX network and beyond. It was a pleasure to honour your productivity and dedication. ...
Again, congratulations on this tremendous accomplishment! Best wishes for continued success!
Sincerely,
Jaclyn Greenwood
Sr. Membership Relations Specialist
RE/MAX World Headquarters
Great Strength and Courage
Dear Jane -
What a joy it was to meet you last week at the 2012 RE/MAX - Komen Fashion Show at the Mandalay Bay! It was truly inspiring fo rme and an honour to work with you. You looked absolutely beautiful on the runway!
I hope your stunning new blue dress will server you well over the years. It is indeed the perfect colour for you. And those SHOES! Just keep practicing and soon you'll be able to walk in them :) You did a better job than I ever could!
Again, you are an inspiration to me. Take good care of yourself and always remember what great strength and courage you represent to others. I'll always keep you in my prayers!
Warmest regards,
Lisa Duncan
You're my new benchmark!
Hi Ken & Jane,
. . .Just viewed your website and have to say it's very impressive. Simple to navigate, liked the bold print to emphasize points. The choice of colors gives it a professional with class look! You're my new benchmark! Well done!
Here's to a prosperous future for us all! Health and happiness be with you and yours!
B. M.
Thank You For Your Professionalism ...
Hi Ken & Jane
I just wanted to take this opportunity to thank the two of you for your professionalism, diligence and effort so far. We know that we, especially me

, can be really nitpicky and at times a pain to work with. Thanks for your patience. Jo and I are both very appreciative of your services.
We are maintaining positive thoughts about the eventual sale. You know what they say, "Positive things happen to positive people!"
...
Have a great week,
M. & J.
Building Professional Relationships
Hi Jane and Ken;
Building relationships are key in our business ...
It was the best decision to refer John and Janine to Jane and Ken for their Maple Ridge home purchase. Immediately they built a professional relationship with my clients and worked diligently to meet the deadline. They took them out every evening and pounced on new listings never missing a beat. They walkded them through the negotiation process and delivered the results. Choose Jane and Ken for your Maple Ridge connection.
Helen Grant
RE/MAX Crest Realty
A Pleasure to Learn From You
It was great working with you both as well! I love how you write and present your contracts, it was a pleasure to learn from you... Thanks again!
We Couldn't Be Happier!
... Thank you so much for everything you did for us and for finding us the perfect home. We couldn't be happier! ...
Really Impressed
Finally we "settled" down this weekend into our new house ...
Brad and I were really impressed with your long lasting assistance with great patience to find us such a wonderful home. Your knowledge and transparency at a higher professional latitude absolutely eased a lot of stress off buyers and brought us a pleasant experience working with realtors.
Appreciate again for your great great service ...
With Best Wishes and Regards,
Professionalism and Thoroughness!
... It's been an absolute pleasure working with you and Jane on this deal. I admire your professionalism and thoroughness. Thank you.
This House Is Just Perfect
Thank you so much. Our move hasn't been that easy for us, but you gave us such good help along the way.

This house is just perfect for us. Not too small, except I don't know where we will put everything. Not too big...

Thank you again for everything ...
Helmut & Ruth
First class professional representatives
Bin and I are very excited about this house and I have to say that you and Jane are first class professional representatives and made Bin's first time house purchase a pleasure.

Brad A.
WOW...
Thank you again for taking the time to talk to me about this and your information is simply brilliant!

I never realized the complexity of it all.

Your details are very much appreciated.

Thank you!

Linda H.
You Made the Experience a POSITIVE and EXCITING Event!
I want to thank-you VERY MUCH for helping me buy my condo. I really can't express in words how helpful you were. It was a scary and sometimes overwhelming prospect for me but you made the experience a POSITIVE and EXCITING event.
I will definitely recommend you to everyone when I have the opportunity.
Sincerely,
Helen B.
Very Professional At What You Do
Hi Ken,
...... I didn't mention it yesterday because you blush so easily, but if you had $5 for every time I mentioned your name, your contract-writing skills, and your stellar reputation during my training in Surrey, you'd be taking the rest of the year off. Really. Many of my former agents know who you are by name and by reputation. The kudos belong to you, you are very professional at what you do, and I've always considered it a pleasure to be in the same industry as you. There, now you can blush privately .....
Mona
Consistent, Open Line of Communication
Hi Ken,
I want to stress how much I appreciated your consistent, open line of communication, and constant updates. It is more than apparent why you have such an outstanding reputation in this industry. I sincerely look forward to putting a deal together with you in the future!
With kindest regards,
Eric N.
Definitely Our Realtors of Choice
Hello Jane
We are so thankful for the work you and Ken do for us. And you are definitely our Realtors of choice.
Thank you again it means a lot...
Laura
You're the Best! Courteous & Professional
Jane & Ken
You're the best! Courteous & Professional.
Thank you for all your work and time in the accomplishment of our new home!
Cathy & Scott
Such Professional and Of Course Wonderful People!
Hi Ken and Jane,
I miss you guys but I can't say I miss the showings haha!!
Thanks for dropping off our papers Sunday, it's now official yippee!! Larry and I are VERY happy and appreciate all of your efforts to get our house sold. It was a pleasure working with such professional and of course wonderful people!
Thanks again for everything! We'll be talking with you soon.
Kelly
So Much More Than We Ever Expected.
Dear Jane & Ken
Thank you very much for all the information you provided regarding properties that might match our needs. We were totally amazed by the time and effort you invested in the whole process, really listening to us and establishing our need, guiding us through all the aspects to consider, showing us around and especially the very comprehensive written report containing the appraisal of the value of our property and all the information we need to enable us to make an informed decision. We are completely inexperienced in this kind of thing, but your genuine kindness and knowledge quickly put us at ease. Without all the thorough and objective information you provided we could easily have jumped into something that we might have regretted later, which is why we are all the more grateful for your willingness to go the extra mile without prodding us in any direction.
You did so much more than we ever expected and we were very impressed with your thoroughness. Once we are ready to proceed or are asked for a recommendation, we definitely know who to contact.
With great appreciation!
Gerard and Annalize
A Couple of True Professionals in the Industry.
Hi Jane,
Janine and I just wanted to thank you and Ken for your outstanding assistance. We have tried working with 3 or 4 other REALTORS® and none came close to you guys - will happily refer people your way with confidence that they will be working with a couple of true professionals in the industry.
Shaun
Thanks for following up
Jane & Ken
Thanks for following up.
Your commitment to continuous learning reflects your dedication to the profession. This is the direction we are trying to take our members. Thank you for setting a great example.
Regards,
Donna Etheridge
Education Manager
Real Estate Board of Greater Vancouver
All Your Support and Direction.
Ken and Jane
Graciously given ... gratefully accepted. Thank you for all your support and direction throughout this "selling" and "buying" process.
Wes and Mary-Lou
All Your EXTRA Hard Work
Jane and Ken
Thank you for all your EXTRA hard work ...! I sincerely appreciated all your support and guidance.
Thank you,
Lori
So Great to Work With
Ken and Jane,
Thanks for being so great to work with. It was my pleasure and I hope to work with the two of you many more times!
Smiles,
Sarah
Someone Is Looking Out For Us
Thanks for the input - sure glad someone is looking out for us ...
Betty & Doug
Time You Spent to Ensure All Went Smoothly
Ken & Jane
Thank you so very much for all your extra efforts on Kanaka. I truly truly appreciated all your time you spent to ensure all went smoothly.
A little kindness goes a long way.
Thank you.
Lori
I Couldn't Have Done It Without You Two.
Thank you so much for all the hard work, late nights, early mornings, and great advice!
I'm so excited to move into my new house, I couldn't have done it without you two.
Thanks again!
Breanne

The "GREAT" Service You've Provided Each Time
Ken & Jane
We were pleased you were able to come see our new place. We've appreciated the "GREAT" Service you've provided each time I've decided to buy or sell a place. It was a tremendous comfort to know that if I had any question or needed any assurance, you were only an email or phone call away and you would respond in such a quick matter of time. I'm hoping that we will be staying put now for a long time, but I know who to call if we or anyone we know needs a "REALTOR® who cares".
Julia & Peter
Thank you so much, Jane, for the properties.
You have really done your homework. Denis and I are very impressed by how thoroughly you do your work and try to accommodate your clients. Buying a home is very stressful and just knowing your agents are very diligent in their work really takes the stress off our shoulders but at the same time we feel bad about what you must go through to get a good deal for us. We want you to know that we really appreciate all your efforts.
Thank you again Jane . Please say hello to Ken for us.
Bye bye for now.
Monique
We Love It
Ken and Jane
Thank you so much for your assistance in purchasing our townhouse. We love it and really looking forward to moving in.
Jay, Kate & Riley

REALTORS® Who Appreciate the Attention to Details
Ken & Jane
Congratulations and Thank you for all of your hard work. It is a pleasure to work with REALTORS® who appreciate the attention to details.
All the best!
Josh
Your Attention to Detail and Level of Service Was Exceptional
To Ken and Jane
Thank you for everything you have done for us.
We think your attention to detail and level of service was exceptional.
You have helped us find our dream home.
Please keep in touch.
Simon, Lisa, Toby and Milo
Appreciate Your Professional Expertise
Hi Ken & Jane
Well, we are now reasonably set up in our new home. Thanks for your assistance in the inspection with Tracey & Jim ... we really appreciate it.
Now all we have to do is remember where we packed things!!!
We truly appreciate your professional expertise in getting us into our new place. We are going to enjoy being here.
Our thanks again. All best wishes.
Marian & Sam.

Your Sincere and Positive Attitude is Enviable
Dear Ken and Jane
Wanted to let you know just how much we appreciate all your hard work. You really helped us with every aspect of homebuying and so much more. Your sincere and positive attitude is enviable.
Many, many thanks,
Jen & Steve H.
Feel Much More at Ease About This Whole Big (and Exciting!) Process
Hello Ken,
I just wanted to email you to thank you and Jane for such a nice visit/meeting today. It was really great to be able to sit and listen and feel much more at ease about this whole big (and exciting!) process. We are really happy that you are going to be helping us out so much and appreciate your honesty. So glad that Bruno recommended your names to us! ...
Thanks again!
Cynthia
I Continue To Be Impressed With Your Services.
Jane & Ken,
Thank you. I continue to be impressed with your services. ....
Christopher
Making Our First-Home-Purchase an Enjoyable Experience
Ken & Jane
Thank you so much for making our first-home-purchase an enjoyable experience! We love our house and know that it is perfect for us - and Ben just loves it! We really enjoyed working with the two of you!
Cynthia, Mike & Ben
Telling Everybody About How Great You Are
Jane and Ken
... you are our agents ... You have been terrific and we have been telling everybody about how great you are. ...
Christopher

All Your Hard Work and Special Touches
Jane & Ken
...of gratitude for all your hard work and special touches ... God bless,
Sherry & Gary
Wow. We Really Appreciate Your Honesty and Frank Opinions.
Hello Ken,
First off - wow! My husband Mark and I are very impressed with the amount of effort and detail you have put into reviewing properties for us. We really appreciate your honesty and frank opinions.
Many thanks,
Karina
Thank You For Your Professionalism
Hello Jane,
We want to thank you for your professionalism in giving us such a fast response to Brenda's question. We will stay in touch with you and Ken.
Our best regards to you both,
Harley & Brenda H.
The House is Great
Hi Jane and Ken
We think of you all the time ... The house is great. We've tweaked it here and there, and there are still a few small things to do, but mostly it has been a wonderful purchase. I think we've all settled in to life in Pitt Meadows now.
I hope you are both well, and that your business is booming. I would definitely recommend you if I ran into anyone in need of your services.
Take care,
Suzann
Really Impressed Us With Your Professional Service and Your Patience
Dear Jane and Ken!
... You really impressed us with your professional service and your patience. We would be more than happy to recommend you whenever we'll get a chance. Too bad - but we cannot be your clients again, because this will be our last move now. We absolutely love the new house - and we are pretty sure this will not change.
Thank you so much for everything! All the best to you - have a wonderful, healthy and successful new year!
Silke & Andreas
Absolutely Wonderful Job
Hello Jane and Ken!
You guys did absolutely wonderful job. We love it and couldn't describe our house better. The pictures are beautiful too. Thank you so much
Alena and Jan
We Had a Great Experience Working With Both of You
Good morning Jane & Ken
We just wanted to pass along our thanks and appreciation for all you assistance in helping us find our new home. ... The dogs are loving their new space to run and play, and our grandson loves to keep his shoes on while stomping along doing laps through the hardwood hallways; it truly feels like a home that we'll be happy opening to friends and family.
..... We had a great experience working with both of you and won't hesitate to recommend you to any of our friends.
All our sincere thanks,
best regards,
Janine & John S.
Thank you For All Your Hard Work
To Jane & Ken
Thank you for all your hard work in finding us our perfect home! We really appreciate all you've done for us professionally, and truly value your friendship.
Tracey, Jim, Cam & Meg
A Fantastic First Time Home Buyer Experience
Dear Ken and Jane
Shelby and I would like to thank you so much for your kind-hearted "Personal Attention". Your "Exemplary Service" gave us a fantastic first time home buyer experience. We wish you all the best and hope to have the pleasure of doing business with you down the road.
In our eyes you truly are "The One" and your "Knowledge", "Experience", and promptness made our first time buyer experience "Priceless". And yes, we will refer you to everyone we know.
Kyle & Shelby & Boomer
Dedication & Hard Work!
... Thank-you for all your dedication & hard work! I am glad we are able to work with the Ambrose Team!
Good Help Along The Way
Thank you so much. Our move hasn't been that easy for us, but you gave us such good help along the way.

This house is just perfect for us. Not too small, except I don't know where we will put everything. Not too big...

Thank you again for everything ...